Solar and underfloor heating
Heating regulator was built for floor heating and later extended for solar heating. Lacking of standard regulators capable of driving up to four independent circuits I have decided to build one of my own.
Heating system description
The project power of the boiler is 17kW. As we decided for floor heating, I wanted to controll each flat temperature with mixing valve. 4-way mixing valves are necessary for floor heating because return temperature is too low to be directcy drawn into boiler return. Hot water is transported from dividing bridge through the ground from garage with duct to house. Duct is made of 100mm styrofoam in rectanqular cross-section of 300x400mm. Duct has 3 forward, 3 return PEX pipes of 25x2.3mm diameter. Warm and cold pipes are separated with 10mm EPS. Duct also holds two 16x2m sanitar hot water pipes for circulation. The length of the duct is 11m. Every flat has its own registry divider.
Solar and underfloor heating regulation controller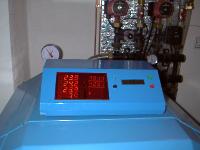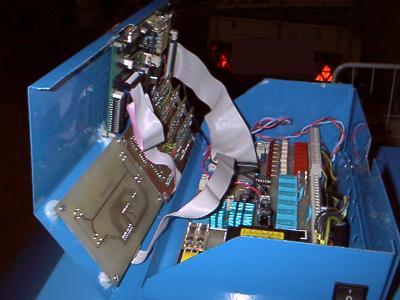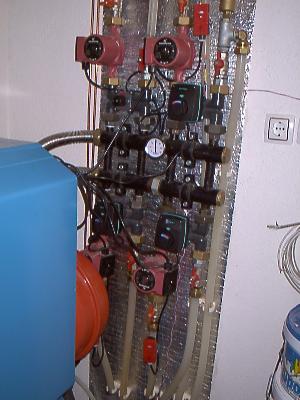 Application software
Features
Four independent underfloor circuits driving
Outdoor temperature driving model
DHW tank independent controlling
Hot water supply timed circulation
Circulation between solar tank and DHW tank for greater efficiency
Night time procedures with RTC
Display blanking
Counting of burner operating time
Solar pump driver
1-wire Dallas digital thermometers
Pump long time protection
Legionella safe mode
Software is divivided into this main parts: Binary code is approx 16KB in size and >3000 lines of source code.
Logging
Some LOG files and plots from operation of the controllereare available .
---
Last modified: Wed Apr 20 11:23:34 CEST 2005